Authors – Itshak Melzer, Ori Elbar, Irit Tsedek and Lars IE Oddsson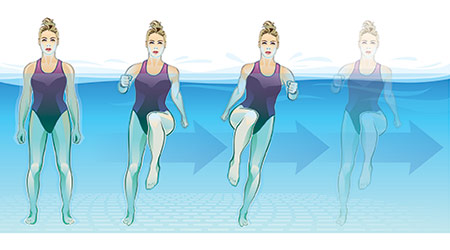 Summary – This study is the first to use water-based training that includes perturbation exercises and water turbulence in a group setting as an intervention to reverse age-related impairments in the ability to step quickly and recover from loss of balance. It differs from previous studies done in the water in this area in a number of significant ways. To date, no study has proposed using a water-based training program that includes perturbations to train stepping reactions and investigate the potential of water turbulence to improve stability. Only four exercise regimens have proposed the use of perturbations to improve stepping in elderly persons; all were land-based exercises regimens [49-51,89].
The water-based training program that includes perturbation exercises as outlined is targeted specifically to: 1) step execution-recovery reactions that are known to be impaired in older adults and associated with increased falling risk [53]; 2) the water-turbulence during voluntary exercises challenges balance control in multiple directions; 3) the perturbations are applied by instructors and classmates in predictable and unpredictable manners that allow subjects to exercise safely and progress when needed. Based on our previous findings [53,66], ongoing cognitive exercises are included to increase the load and specificity of training.
We hypothesize that the novel water-based balance training that includes perturbation exercises will improve balance control and increase speed of stepping, and this should help to reduce the incidence of falls. Due to the limitation of randomized controlled cross-over trials, the investigation of effects on falling is beyond the abilities of the present study. The results of the present study will add evidence regarding the effectiveness of perturbation-based balance training programs, and will be novel in conducting the perturbation exercises in water against water resistance and in a group setting that provides cost-effective exercise programs for long-term improvement followed by maintenance of the training benefits.