Author – Grace McClure.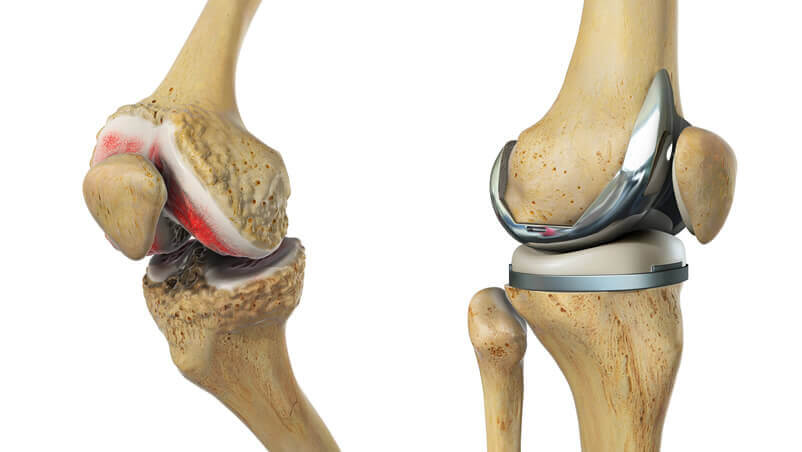 Before getting in the pool, you must be cleared by a medical professional. Talk to a physical therapist, your orthopaedic surgeon or general doctor before beginning aquatic therapy.
We recently spoke with Paula Richley Geigle, Physical Therapist (PT), PHD, who is a research therapist out of the University of Maryland Rehabilitation and Orthopaedics Rehabilitation Research Center. Dr. Geigle is one of the nation's leaders in aquatic physical therapy (sometimes called water therapy or pool therapy) and is co-editor of Aquatic Exercise: Rehabilitation and Training.
With the increasing popularity of water therapy used to PreHab joint replacement patients, we wanted to uncover the benefits of aquatic therapy, find out who should be making a splash in the pool, and ultimately, put together a water therapy 101 resource.
Why Water Therapy Before My Joint Replacement?
Exercises targeting the muscles surrounding your surgical hip and knee is an integral part of any PreHab program that reduces surgery risk and leads to better post-surgery recovery. Dr. Geigle suggests that "95% of people should be doing some form of exercise or therapy" before their joint replacement surgery, adding that doing so leads to "quicker recovery, less discomfort and return to a higher function."
Physical therapy in the water provides a particularly great opportunity for patients who are demobilized and experiencing discomfort. As Dr. Geigle explains, "the pool is a perfect place for those who have too much pain on land" citing that the benefit of water therapy lies in "the water principles themselves."
Water allows patients to work on their range of motion, flexibility, muscular strength and cardiovascular health in an environment where buoyancy, gravity, and hydrostatic pressure work with the exerciser.
The water affords patients greater comfort, burns more calories, and lends "the ability to exercise at a higher intensity with a balanced equal weight bearing during water walking and jogging. While in the pool, people are happy because they can do more again," says Geigle.
10 Benefits of Water Therapy PreHab
Warm water relaxes muscles and increases circulation. Therapeutic pools are kept between 85 and 90+ degrees fahrenheit. How great is that?
Water provides natural resistance for strength training.
The reduced gravitational forces in the pool allows patients to move freely, walk and stand (gait train) without causing damage or putting too much force on the joint.
Hydrostatic pressure means there is equal pressure placed on all body parts immersed in water.
Water buoyancy, warmth and hydrostatic pressure work to increase circulation and minimize pain.
In the pool, weight bearing depends upon the water depth but can unload 50-90% of a person's body weight.
With body weight unloaded and pressure taken off the troubled joint, people can focus on cardiovascular exercises.
Cardio exercises performed at 70-75% of heart rate reserve is great for caloric burn and weight loss.
People often report feeling back to "normal" when they're exercising in the pool since they can work at higher intensity with reduced pain.
Water therapy provides peer support and boosts morale. Pool therapy classes are generally comprised of people undergoing a joint replacement around the same time as one another. This camaraderie lets people know they are not alone.
Popular Water Therapy Exercises for Joint Replacements
Note: Before getting in the pool, you must be cleared by a licensed medical professional. Do not try these exercises without having done so.
Like traditional on land PreHab for joint replacement candidates, there is an overlap in the movements and exercises recommended for hip and knee patients. The main difference between on land versus in-water PreHab is that in the pool, a cardio emphasis is possible. Many patients cannot achieve the same level of cardiovascular challenge on land because of joint discomfort. Aquatic physical therapy exercises also improve cartilage health, agility, balance, range of motion, joint flexion and extension, and gait function.
Here is a sample list of pool exercises your physical therapist (PA) may introduce to get you prepped for joint replacement:
Water Walking and Jogging—This a great way to improve the way you stand or walk (gait function). The deeper the water, the less you will need to support your own body weight, thereby alleviating pressure on your joints. The faster you walk or jog, the stronger the resistance and the more calories you will burn. Some water therapy centres even have underwater treadmills to help track speed and monitor your improvement. Cool, right?
Stretches—Useful for building up strength in the hamstrings, quadriceps and hip abductors and increasing joint flexibility. Muscles are relaxed in warm water, making stretching easier on your body.
Leg Movements—Exercises targeting the legs increase range of motion as well as strengthen the hip and the muscles surrounding the knees. Leg circles, kicks, knee lifts and side leg lifts are examples of exercises that target key muscles while accommodating most joint replacement candidates.
Who Should and Should Not Do PreHab Water Therapy
One of the most common misconceptions about aquatic therapy is that it is only for swimmers. This is not the case. In actuality, with the assistance of a physical therapist, non-swimmers can take active part in water therapy alongside seasoned swimmers. That said, comfort in the pool is vital and this can be a difficult obstacle to overcome for those with less water experience.
Those who have been medically cleared, are comfortable in the water and scheduled for hip or knee replacement should begin aquatic physical therapy. Starting pool therapy six or more weeks out from surgery is optimal. For the first few weeks, forty-five minute classes 2-3 times a week is recommended. Once baseline fitness is established, individuals can drop down to 2 classes per week leading up to their replacement.
As Studies suggest and Dr. Geigle affirms, people performing targeted exercises in the weeks leading up to surgery experience faster post-op recovery rates, returning back to regular activities sooner.
Who Should Not Do PreHab Water Therapy
Those not been cleared by a physical therapist, doctor or orthopaedic surgeon.
Those who do not pass a water safety assessment.
Those with underlying medical issues making water exercise unsafe.
Those who are not comfortable in the water or hold a phobia.
Those with open skin areas measuring greater than 2cmx2cm who are unable to sufficiently cover it with bio-occlusive materials.
Tips for the Pool
Water shoes will give you extra traction, making it easier to walk around in the pool
Accessories like buoyancy belts, pool noodles and webbed gloves can offer greater support, resistance, and improve your workout.
It's a common myth that you don't sweat inside the pool. You do sweat, you just don't feel it. Bring a water bottle to prevent dehydration.
If you can, look around for an aquatic therapy centre, therapist or particular group of peers that you like. Water therapy should be fun and provide a network of support with individuals who are in the same boat (pun intended).