Published by Ausleisure.com.au – MARCH 7, 2018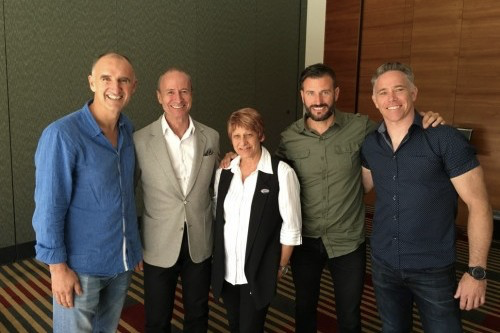 Aqua Forum has heard calls from aquatic fitness professionals for registration providers to find a solution and strategy for the ongoing representation and education of the aqua.
Held on Sunday 4th March at the RACV Club in Melbourne, the Aqua Forum was the second event in a series of 'satellite' forums, that started with the Sydney Aqua Forum held the previous.
As reported by Gym Click Media the Aqua Forum was arranged by Dominic Gili, from Aqua Fitness Online, and attended by around 50 aqua instructors and presenters.
It aimed to bring to light, the concerns and feelings of the aqua community, in response to the exclusion of the aqua stream in the FILEX 2018 program. In addition to the call for registration providers to find new strategies and solutions, there were also calls for more evidence-based education opportunities, focusing specifically on:
• The rehabilitation of orthopaedic patients
• Special population groups such as arthritis, diabetes and older adults
• Variation in programming such as Acquapole, Aqua Gymstick and Aquaspin.
Gili invited all industry registration bodies to talk about the future of aqua with a panel consisting of Ben Cooper, General Manager at Physical Activity Australia; Dennis Hosking, Managing Director at FITREC; Bill Moore, Chief Executive at Fitness Australia and Jennifer Schembri-Portelli, Chief Executive at AUSTSWIM.
Melbourne was the first event attended by all four leaders.
Commenting on the events, Forum organiser Dominic Gili stated "the aim of the Forums (is) to assess the current the state of play for aqua fitness in Australia, and to provide a baseline of information for instructors with regards to registration, conferences and professional development/training opportunities. It was also presented as an opportunity to consider what we can do to ensure the future success of the aqua fitness industry.
"The forum was an opportunity for the many aqua fitness instructors who had been sharing their grievances on social media about aqua fitness being excluded in the 2018 FILEX program, to come together and understand how and why this happened, and to use that collective passion and energy to forge towards a positive solution.
"My short-term goal for the Forums is for Aqua Fitness instructors – as individuals and as a community – to acquire information and knowledge to help us make good decisions about the future of our industry. After conversations with various aqua fitness instructors across Australia, and reading posts on social media, I realised that very few people knew what registration options were available to them, so I thought a good start would be to invite representatives from the industry's peak body and other key organisations, to educate and inform instructors on the services they provide. In doing so, I felt it could help build a stronger sense of community, inclusion and collaboration within our industry.
"The long-term goal is to build strong relationships with key organisations. Specifically, encouraging them to establish a (or discuss the viability of establishing our own) panel, or working group that can be solely focused on representing the needs of the aqua fitness community. The group could also communicate and work closely with employers, suppliers, health professionals and other fitness and aquatic organisations. It was clearly evident that the decline of the profile of aqua fitness within the fitness industry has been due to a lack of representation. This decline of aqua fitness within the fitness industry was also in direct correlation with the successful introduction of new aqua fitness instruction training by AustSwim, and its wide appeal due to affordability and other factors.
"It has become clear to me that aqua fitness is languishing between the fitness and aquatic industries, and we could not move forwards unless we brought the leaders of these industries together, to highlight the current state of play, and encourage them to work together to address these issues."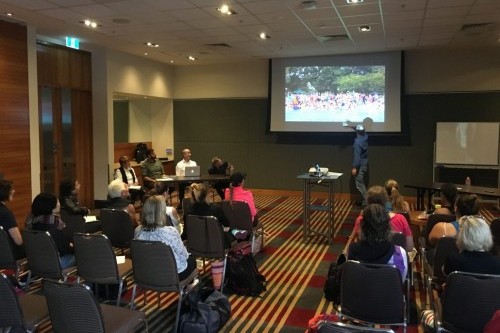 Results from a recent aqua instructor survey indicated that over 80% of respondents (200) have not attended an annual conference within the last two years; whereas in the same period a mere 38 aqua instructors attended the aqua stream at FILEX 2017. The survey also found that most aqua instructors have indeed attended relevant professional training to ensure they remain up-to-date with their registration requirements.
AUSTSWIM's Chief Executive Jennifer Schembri-Portelli, confirmed that there are over 33,000 licensed swimming teachers, of which hundreds are now AUSTSWIM WETS aqua trained instructors.
Fitness Australia's Bill Moore confirmed he certainly wants to see the return of the aqua stream at future FILEX conventions.
The forum attendees agreed that there is a need for an aqua-specific "registration'' to be made available at FILEX, which could assist with driving future participation numbers.
At the conclusion of the Forum, the panel members shared their thoughts.
Ben Cooper stated "as a national fitness registration body, engaging with key industry groups such as the aqua community, is critical. The Melbourne and Sydney aqua forums were a great initiative of Dominic's and a great opportunity to listen to industry people. At PAA we welcome the chance to continue working with all parties identifying the current challenges and solutions that will best support professionals working in aqua fitness."
Jennifer Schembri-Portelli stated "it was great to have all the aquatic and fitness decision makers in the same room to talk through the issues. In 2016 AUSTSWIM formally identified the skills shortages in the industry and we are now more than halfway through our five-year plan to deliver a robust accreditation system that will strengthen a skilled aquatic workforce to now include aqua instructors. We are proud to say that in excess of 350 aqua instructors now hold AUSTSWIM WETS aqua licences, which includes insurance. Hopefully the forum is the first step towards a strong, positive industry sector ready to embrace the aquatic health and fitness opportunities of the future."
Dennis Hosking stated "Dom's survey results clearly pointed to the need for increased local learning opportunities. He also presented a range of fantastic events for aqua professionals outside of FILEX.
"FITREC is keen to support local learning opportunities. Specifically, we've offered to provide free promotion to any upcoming events to our considerable audience Australia-wide. We've also cut red tape and reduced the cost of running these events by scrapping the need for points accumulation."
"The importance of WETS in the aqua accreditation space was also highlighted. FITREC fully supports and recognises the WETS accreditation of aqua instructors (irrespective of Cert III in Fitness)."
"I commend Dom and everyone that attended for giving a voice to the aqua fitness community."
Bill Moore concluded "aqua fit has always been in a bit of a no-man's land when it comes to industry representation, caught somewhere between aqua and fitness. Hearing the concerns of instructors has been very enlightening. The previous owner's removal of the aqua stream from the FILEX program brought this to a head and it has galvanised the aqua fit community to get dedicated representation and improve participation. It has prompted Fitness Australia to get behind the community and there has been a lot of work going on behind the scenes to strengthen representation and re-examine the services and benefits we provide. It has also given us the opportunity to offer support with the national training package Cert 3 aqua qualification that is currently being reviewed."
For access to the survey results contact Dominic Gili on email: dom@aquafitnessonline.com