Authors – Gabrielle Harris and Linden Cowan – ePublication of Australian Fitness Network – Resources Library.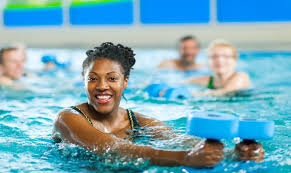 A great deal of work is needed to create an aqua class that leaves a lasting impression. The challenges we face as aqua instructors are manifold. The lower profile of aqua exercise compared to land-based classes can make it hard to find the time, energy, perseverance and inspiration to create and deliver a class that will motivate, get results, leave a lasting impression and keep your participants coming back for more.
Add to this a lack of ongoing training and opportunities to update skills, difficult recruitment processes, the absence of a governing aqua body to give credence and support, and the challenging working conditions of a pool environment and producing great aqua programs can sometimes seem like a lot of effort.
We took a long, hard look at the aqua industry with the goal of working through such challenges. We continuously questioned why land-based programs were frequently considered by the general populace to be more fun, effective and 'cool' than aqua programs, particularly as water's unique properties provide such a brilliant form of cross training that enhances functional performance on land, increases cardiovascular fitness and aids weight loss, along with a host of other benefits.
By addressing recruiting, training, marketing, education and professionalism we have been able to attract a new market along with a new team of instructors. Class numbers have doubled and we have revitalised existing classes and added new programs to the timetable.
The following ideas, which we have successfully implemented, should both equip and inspire you to take your aqua programs to new levels. Along with top quality training systems, we firmly believe that the full potential of an aqua class will only be realised when there is a strong focus on the following:
MUSIC: THE SOUL PROVIDER
Music is an extremely powerful and versatile medium of communication with the power to create emotion. It motivates, sets the mood, dictates the moves and provides inspiration and cohesion to classes. Too often this powerful element is just turned on as background noise bearing little relevance to the moves or the mood of the class.
Certain factors need to be taken into account when selecting music for your aqua class:
Know your market – Select music relevant to the type of class being taught, considering age, abilities and class themes.
Tempo – Correct speed of music is crucial to the success of your class. Music tempo
influences technique, safety and enjoyment. Don't, however, restrict yourself to slow to
moderate counts; by adjusting ROM and tempo, faster music can be extremely motivating.
Flow – To keep your participants in the zone and focused from track to track, avoid having extended breaks between tracks. This also prevents body temperature from dropping.
Variety – Vary the music genres used within your class to cater to the different musical tastes of class members. Mix new tracks with remixed versions of old favourites to add flavour and spice to your class.
Song anatomy – Know your music, the length, the breaks, the chorus, the verse and the highlights. This will make the music work for you, as you package your choreography to suit. Make sure the feel of the music corresponds with your moves and the theme of the class.
When used in the correct way, music has a unique ability to inspire both instructors and participants. It allows instructors to create and participants to work harder towards higher fitness goals.
CHOREOGRAPHY: YOU ARE THE DIRECTOR
By planning ahead, organising your action and being creative, you can be the director of your class success. Even though it initially involves a lot of effort and creativity, good choreography ensures consistency for your participants, enabling them to anticipate the moves, and allowing them to work harder and more efficiently.
The moves – When creating combinations it is easy to forget that the transition from landbased to water-based movements is huge. The density of air makes it easy to change direction and perform combinations quickly in comparison to water which is one thousand times denser. Due to the properties of water, quick combinations and directional changes are ineffective and do not encourage excellent execution of the movements. It is really important to iron out choreography combinations in the water to ensure transitions are smooth, functional and safe. Movements must be do-able to the speed of the chosen music for the desired result to be achieved. Practising in the water also enables you to take notes for cueing and coaching certain moves and to research alternative movement options for participants who experience difficulty with particular moves. Last but not least – keep it simple and have fun!
Format – Having a format to work to for each individual class can take a lot of the guess work out of your choreography. Formats can be flexible where different water temperatures are concerned, and can provide direction, purpose and balance to your classes.
Creative juices – There are lots of resources to draw on, so let your creativity evolve. Think outside the square, remembering to take into account the prime objectives of functionality and safety for you and your participants.
PRESENTATION: THE CUTTING EDGE
This provides the icing on the cake for a dynamic, memorable class. How you present yourself and your classes says a lot about you and your workplace.
Cueing: verbal vs non-verbal – The aquatic environment presents many communication barriers. The acoustics of the pool can make the use of a body mic, or simply your voice, ineffective, and because our teaching environment is frequently shared with other pool users, the distraction they can cause to us and our participants is also an issue. Understand the importance of non-verbal communication and learn to speak with your body to increase your effectiveness as a leader. Develop some visual cues that participants become familiar with. This has the added benefit of saving your vocal cords! Add to this some timely verbal cueing from the deck that will ensure smooth transitions, and deliver precise, deliberate instructions to really help your participants.
The demonstrator – Imagine you are in the water and move with the same strength and speed on the deck. We need to execute the moves clearly and correctly as if moving through the water so participants will learn how to perform the movements safely with correct technique.
Knowledge – You can only give out so much if your cup is half full, so our responsibility as fitness leaders is to keep our cup full to overflowing. Whenever possible, attend workshops and conferences so you can keep up with the ever changing trends in the aqua and fitness industry. Knowledge will not only empower you to create a better learning environment; when shared it will also empower your participants as they strive for greater fitness and well being.
Performance – Practice, as they say, makes perfect. Preparation before class offers a great opportunity to make adjustments, create goals and imagery to heighten participants experience, brush up on skills both technical and verbal and tune in mentally, physically and emotionally for a larger than life performance that will captivate your audience. Thoroughly knowing your music and class content will ensure that you are able to confidently deliver a class in which enjoyment is inevitable. Make 2007 the year to extend yourself, so you and your participants reap the rewards.