Author – Lori Sherlock, Ed.D. lsherlock@hsc.wvu.edu
What are Neurobics?
Mental exercises that challenge the brain in novel ways.
Mental or physical activities that involve greater mental engagement or further engage the senses
Why are we Interested in Brain Health?
Cognitive decline & development of dementia or Alzheimer's Disease
1 in 9 adults
Increased risk with age
CVD increases prevalence to 1 in 4
Deemed public health concern by the CDC
Benefits of Neurobics
Increased Neural activity → increased blood flow to brain → Brain cell growth
Increased stimulation of patterned neural activity → improved cognitive function
Improved dual task completion
Enhanced memory, reasoning ability, cognitive function
Reduced risk for depression
Reduced risk of cognitive decline and Alzheimer's Disease
Improved mental flexibility
Increase in BDNF production
Improved ability to perform ADL's
Physical Exercise is Equally Important in Brain Health

Creating Neurobics:
Experience unexpected, novel things
Use your senses
Level of importance or engagement are factors
Evoking emotion can increase the impact
Increasing oxygen availability can improve outcome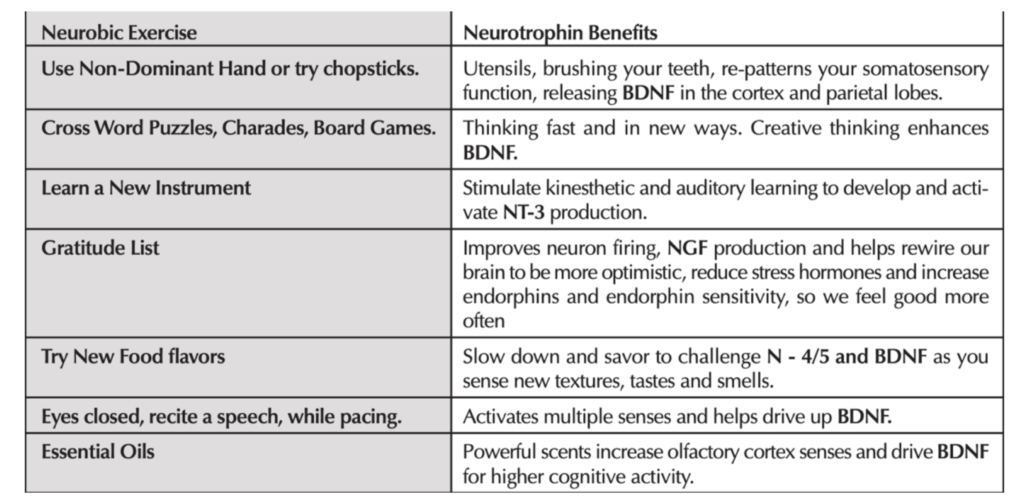 Intensity & Complexity:
Increased movement complexity = reduced movement intensity
Movement complexity is subjective

Exercise experience, movement library, etc.
Practicing a task reduces its perceived complexity Neurobics as purposeful recovery:
Important to perform, bur not physically strenuous = perfect for recovery
Ways to incorporate into recovery:

Rest Interval during a HIIT (Immediate Recovery)
Rest between intervals or sets (Short term recovery)
Recovery or Transition sessions (Training Recovery)
"It could be argued that the recovery period is equally important as the exercise stimulus" -SA Romero et.al
Importance of Recovery
Exercise Stress → Muscle & Tissue Damage → Need for Repair → Recovery → Adaptation
Without recovery, we can experience lack of progress with training, injury, overtraining syndrome, or burn-out
Active vs Passive Recovery
Active
Light to moderate activity
Can include short bouts of anaerobic activity
Increases blood flow
Accelerates metabolic waste removal
Stimulates healing and adaptation
Passive
Massage
Compression
Hydrotherapy
Sleep – PARAMOUNT during training and recovery
Intended to increase blood flow
Neurobics as Purposeful Recovery
Rest Interval during HIIT (Immediate Recovery)
Work: Ski x :30 @ 9/10
Rest: Write word on persons back with non-dominant hand and have them guess the word while marching x :60 @ 4/10
Rest Interval between intervals or sets (Short Term Recovery)
Interval Set: Tabata
Rest: Follow the Metronome (Faster → Slower)
Recovery or Transition Sessions (Training Recovery)
REHIIT Protocol with Navigation 3 min easy
:30 sec Very Hard 3 min easy
:30 sec Very Hard 3 min easy
Neurobics for Purposeful Recovery Workout
Warm Up x 5 min
Include 6-7 formula
Incorporate Build-up Drill to 9/10
5 Min AE @ 5-7/10 + Word Play
1 min @ 6
Grounded L Jack + Ski + Toe Touch
Repeat Words of Song Out Loud
1 min @ 5
Grounded R Jack + Ski + Toe Touch
Repeat Tongue Twister
2 min @ 7
Jog with directional changes and foot position changes
Learn sign language
1 min @ 5
Heel Taps Front and Back
Draw letters on hand forward and back/dominant and nondominant
10 Min REHIIT Protocol – Navigation
3 minutes easy – Eyes Closed, March from your Front door to your Primary Bathroom 30 seconds VERY HARD
3 minutes easy – Eyes Closed, March from your Back Door to a landmark in your Yard 30 seconds VERY HARD
3 minutes easy – Eyes Closed, March from the Hotel's front entrance to the Pool.
5 Min AE: Dot Drills with Direction, Dot & Foot Changes
HARD (9/10): Low-Moderate (6/10): Moderate (7/10): Easy (5/10): Low-Moderate (6/10): Easy (5/10):
30 seconds – X-Mogul Jumps
1 min – 5-Dot: Slalom
1:30 min – 5-Dot: Hour Glass
1 min – 5-Dot: Figure 8 Drill
1 min – 5-Dot: Wide Triangle
1 min – 5-Dot: M Drill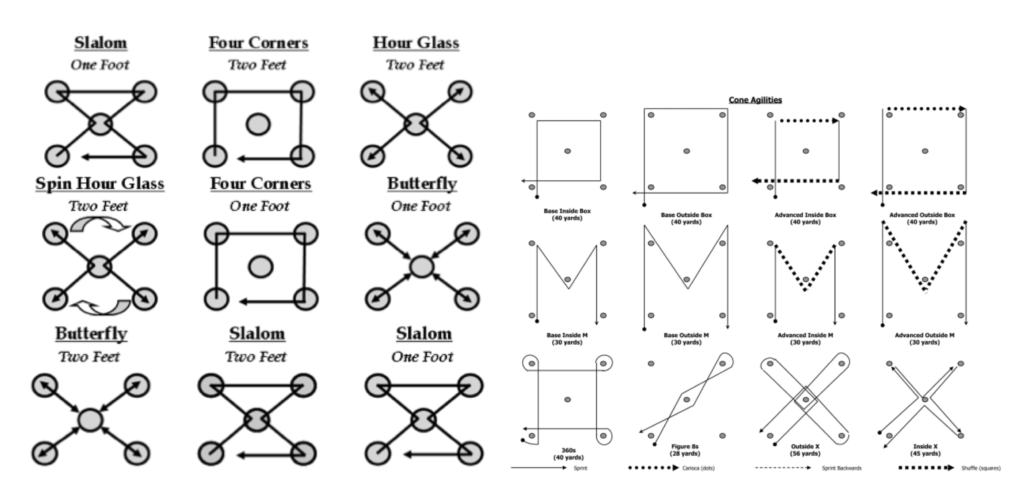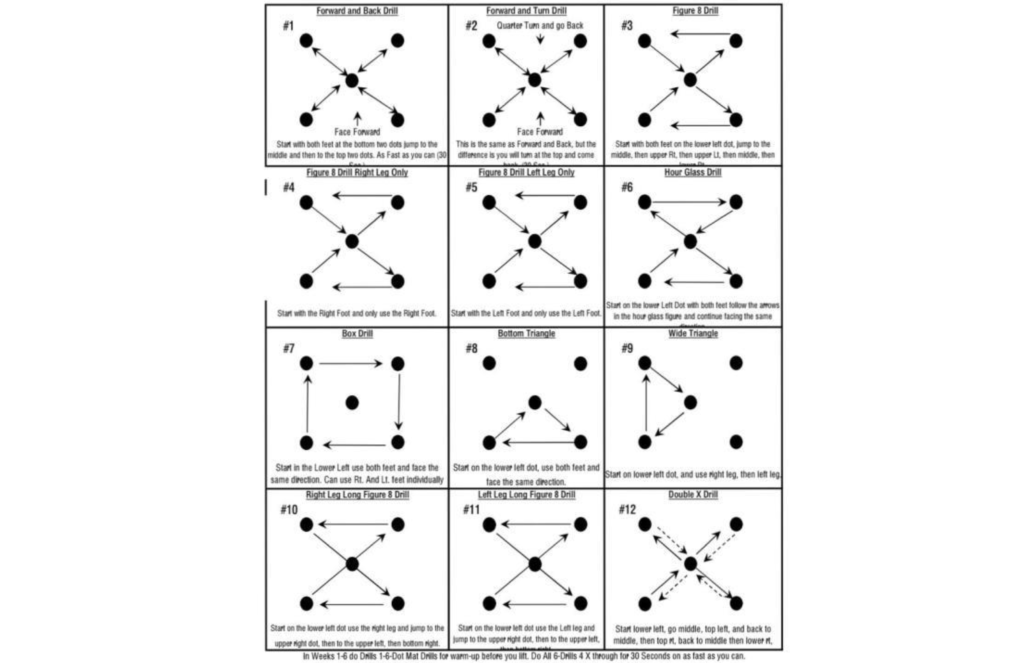 5 Min AE @ 5-7/10 – Add On Memory Game
Continue to add on to the combo and the group has to remember.
Ski x 4
Jack Cross x 2
Tuck & Shoot F/B x 3 + bounce center
Clap F/B single, single, double x 2
Tap Heels behind – Opposite x 2, same x 2
Tap Knees in front – Opposite x 2, same x 2
Staggered Run in a circle (right begins forward, left ends forward & reverse) x 8 Seated Level 3 scull x 8
Karate Kick F/B/S/down x 8 (L/R)
Tuck x 2
Regular/Wide Twist x 2 each
Rear Slide & pulse up x 4 c
10 Min low intensity interval set done as 1 min gentle build up 1 min mobility + ball play
1 min ↑ effort every 10 sec 5 → 6 → 7 → 8 (hold at 8/10 for reminder of minute)
1 min mobility: Clock reach with Right toes + ball
1 min ↑ effort every 10 sec 5 → 6 → 7 → 8 (hold at 8/10 for reminder of minute)
1 min mobility: Clock reach with Left toes + ball
1 min ↑ effort every 10 sec 5 → 6 → 7 → 8 (hold at 8/10 for reminder of minute)
1 min mobility:squat and reach across with ear pinch
1 min ↑ effort every 10 sec 5 → 6 → 7 → 8 (hold at 8/10 for reminder of minute)
1 min mobility: heel-toe rocks changing from neutral, internal, external + ball
1 min ↑ effort every 10 sec 5 → 6 → 7 → 8 (hold at 8/10 for reminder of minute)
1 min mobility: Figure 4 Squats + ball
4 min low intensity interval set done as Tabatta format: Gait Focus with ball, eye and head drills
20 sec RIGHT Single Leg Ankle Hops Forward and Back + ball play
10 sec Rest
20 sec 3-step Pause Forward and Back + ball play
10 sec Rest
20 sec RIGHT Jump from front foot to back foot with pause – emphasize weight shift + ball play
10 sec Rest
20 sec Right/Left lateral 3-step pause + ball play
10 sec Rest
20 sec LEFT Single Leg Ankle Hops Forward and Back + ball play
10 sec Rest
20 sec 3-step Pause Forward and Back + ball play
10 sec Rest
20 sec LEFT Jump from front foot to back foot with pause – emphasize weight shift + ball play
10 sec Rest
20 sec Right/Left lateral 3-step pause + ball play
10 sec Rest
Cool Down x 5 min